We Strive for Excellence
We Guarantee we will go above and beyond what you originally contracted for. No other company is as thorough and affordable as American Hoarders Cleaning Service and our A+ Better Business Bureau rating reflects that!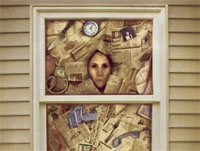 Did you know?
The average clutterer/hoarder will spend in excess of $150,000.00 in their lifetime on things that are rarely, if ever used. They usually live 8 to 16 years shorter than other people. Health problems are almost certain among this group. Priorities must be set straight when seeking qualified and experienced, professional and compassionate service help. Quality of life for a loved one should be priceless. Beware, of lately, there are some companies that are jumping on the bandwagon to perhaps, cash in on the "Extreme Cleaning and Organizational Service Business. It is of Paramount Importance that when seeking this type of service the company be personally experienced, along with integrity, honesty and a two way, everybody wins.